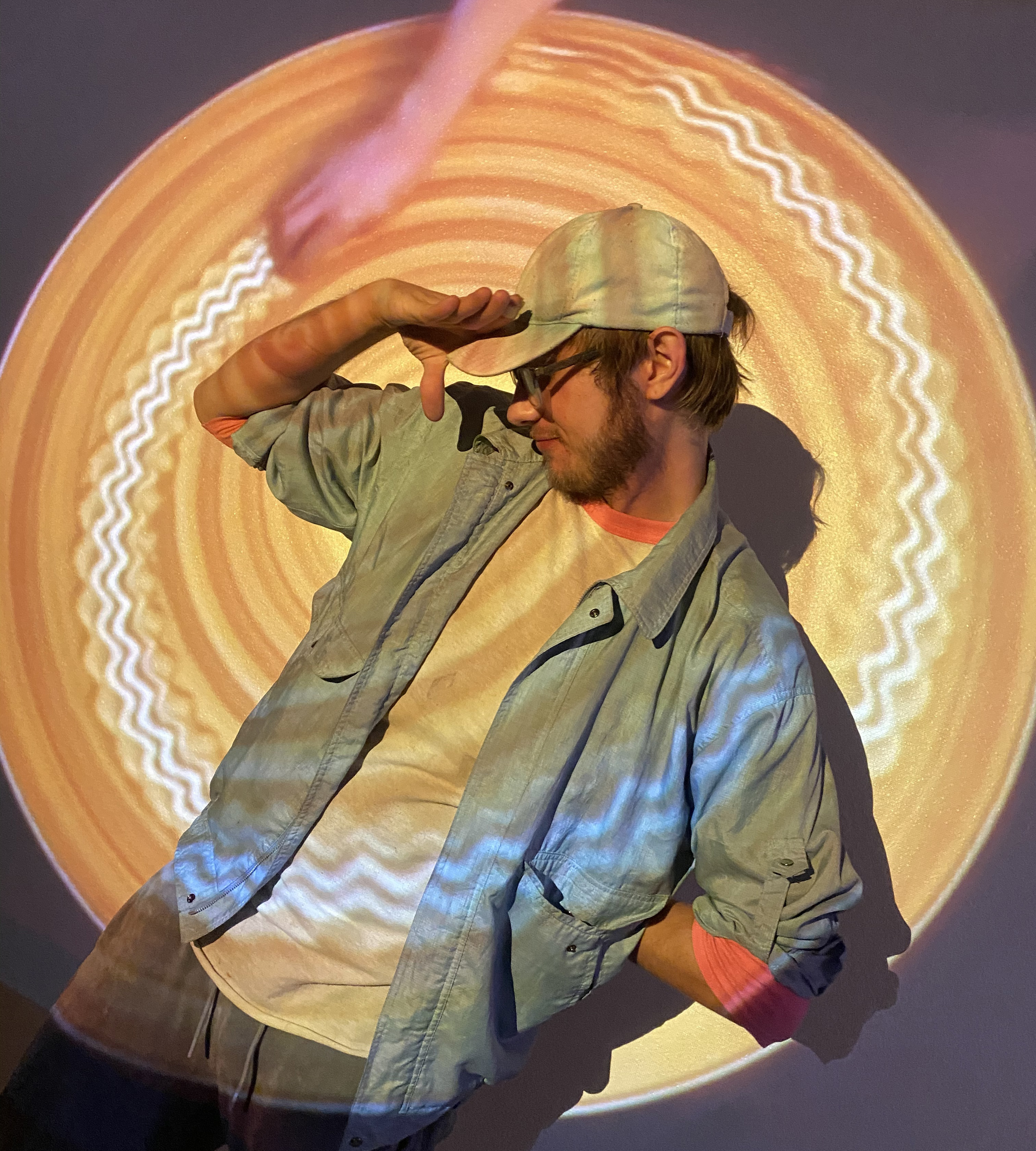 Dason Coyote Culver is a multi-media artist with a leaning focus towards Murals and Immersive Installations. He often creates environments that revolve around ideas of challenging perceptions, questioning reality, and manifesting change. These environments consist of playful narratives that reveal and reflect upon commonalities within the human experience and how these experiences connect us all at a sacral root. 
With fingers and toes dipped in multiple creative pools; his ever-growing portfolio includes work within the realms of Graphic Design, Painting, Print, Film, Wood, Metal, Glass, Stone, Immersive Installation, Fashion Fabrication, Technology Manipulation, and general Artistic Emancipation. 
Currently, Dason holds an AFA in Sculpture from SFCC and a BFA in Studio Arts from the Institute of American Indian Arts. On any given day you may find him lurking abandoned ruins throughout New Mexico, collaborating with the many minds of Meow Wolf as part of the Merchandise Team, or creating live and public art at events throughout the Southwest.
CURRICULUM VITAE
EDUCATION
2017-2019 Santa Fe, New Mexico
Graduated with a Bachelors in Fine Arts - Studio Arts, Institute of American Indian Arts. 

2013-2017 Santa Fe, New Mexico 
Graduated with an Associates in Fine Arts - Sculpture, Santa Fe Community College.
2011-2013 Albuquerque, New Mexico
Graduated with Diploma, Digital Arts & Technology Academy
IMMERSIVE INSTALLATIONS
Large scale installations include building immersive environments in various spaces, often outside in nature with ranging weather conditions. These types of installations include transportation of materials and onsite building, maintenance, and tear-down of materials within a given time frame ranging from over the weekend or over several months. 
Wakaan Festival in Ozark, AR. 2022

The Paseo Fest in Taos, NM. 2022

Sonic Bloom Festival in Rye, CO. 2022

Candela at Gem & Jam Festival in Tucson, AZ. 2022

Lit Music Fest in Albuquerque, NM. 2022

Nihonga Desert at River Of Souls Fest, Tico Time Resort, Aztec, NM. 2021
Kress Collaborative in Albuquerque, NM. 2021-Ongoing
Evolving Installations every month.
Collective Consciousness Meditation Orb. Cedar Crest, NM. 2020
Geometropolis II at Taos Vortex Festival in Taos, NM. 2019
Geometropolis I at Juniper Jam Festival in Flagstaff, AZ. 2019
Resonance on The Institute of American Indian Arts Campus. Santa Fe, NM. 2019
Conspiracy at Up Gallery. Albuquerque, NM. 2019
Paradise at Sandbar, Albuquerque, NM. 2018
Little Things at SFCC, Santa Fe, NM. 2015
MURALS
Have painted multiple murals and organized muralism projects throughout New Mexico including involvement in the 2020 Paint for Peace ABQ project and a 2011-2013 coalition with PNM (Public Service Company of NM) to continuously paint transformer hubs centered in Downtown Albuquerque, NM. 
Notable works include collaboration with:
IRLART
Far Out Murals
Meow Wolf
OT Circus
Institute of American Indian Art
Santa Fe Community College
Zephyr Workspace
The Housing Trust
Ollolo Gathering
SWAAN Park
Sandbar ABQ
Tammy's Edge
Concrete Jungle Santa Fe
Warehouse 21
Cruces Creatives
Barricade Culture Shop
& Many More
GALLERY  EXHIBITIONS
Kress Collections
Kress Collective Building
2021-22 - Albuquerque, New Mexico
NM Love
American Home & Furniture
2020 - Albuquerque New Mexico
Urban Legends (2019) & Low Rez 1-3(2018-2020)
Up Gallery
2018-2020 - Albuquerque, NM

Resonance
IAIA Campus
2018-2019 - Santa Fe, NM 

The Time Is Now
Shidoni Gallery
2018-2019 - Tesuque, NM 
Launch
Red Dot Gallery  
2017 - Santa Fe, NM.  
Various Exhibitions
SFCC Gallery  
2015-2017 - Santa Fe, NM. 

Ollolo 11 Year
 Ollolo Art Space  
2017 - Ocate, NM. 
LIVE ART SESSIONS
Live Art Sessions involve performing as a live sculptural artist and painter during various events such as concerts and otherwise.
-Wakaan Festival 2022
Ozark, AZ
-River Of Souls Festival 2021
Aztec, NM
-Taos Vortex Festival 2019
Taos, NM
-Juniper Jam Festival 2019
Flagstaff, AZ
-Illegal? Mural Event 2017-2021
Las Cruces, NM
-Party In The Park 2017-2019
Albuquerque, NM
-Taos Vortex Festival 2018
Taos, NM
-Concrete Jungle Jam 2017
Santa Fe, NM 
-A51 Pre-raid party Installation at Eclipse Event Center 2019
Albuquerque, NM
-Sub-Assembly w/ TigerPhresh 
Albuquerque, NM 
-Live Art Sessions held at Meow Wolf (Santa Fe, NM) include:
 Yheti (2019), G Jones w/ Woolymammoth (2018), Eprom w/ NastyNasty (2018), Freddy Todd w/ KLLSmth (2018), Goopsteppa (2019), Sonic Bloom Pre-Party w/ Truth & Esseks (2018)
PHOTOGRAPHIC PUBLICATIONS
Cracks In the Arroyo, 2016 - Santa Fe Literary Review
Freyja's Party, 2016 - Santa Fe Literary Review